How To Shop for the Perfect Rug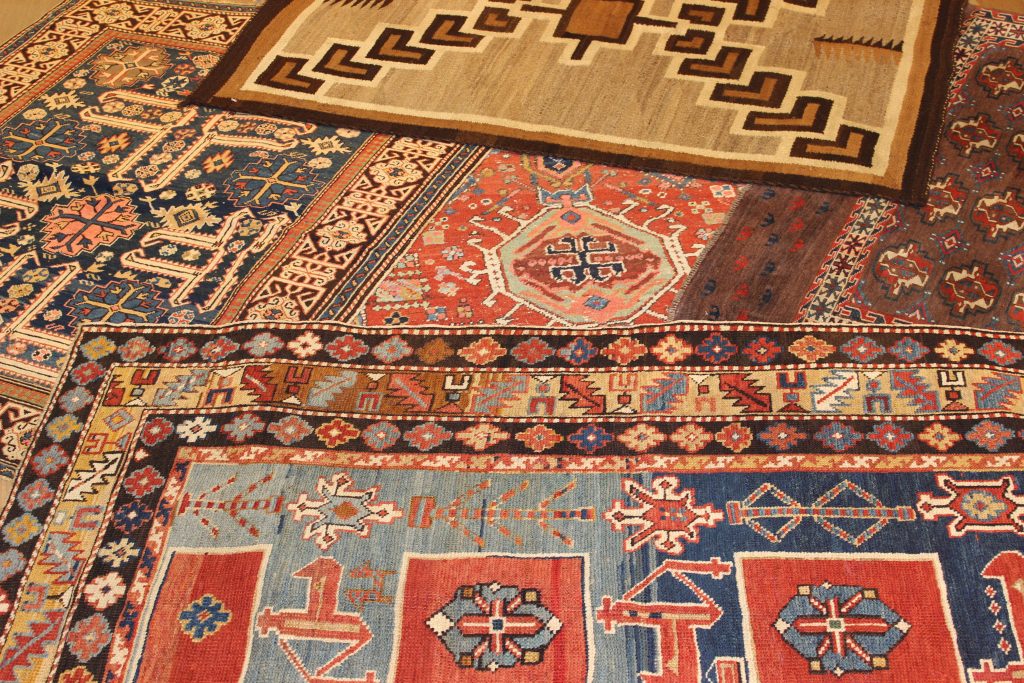 ---
New to the rug-buying game? Have no fear! We're here to help. Whether you're looking to furnish your entire home with the perfect area rug for each room, or you just have one space in mind–like an office–to furnish, we break down the essential components of rug-buying so that you know exactly what to look for.
---
Size: It's Everything
The most important thing you should know before embarking on your rug-buying adventure is, what size rug am I looking for? This is the first thing you will be asked when shopping around.
Not sure? In order to figure this out, you need to go straight to the source: the room, or space, you have in mind. Of course the dimensions of the room will factor into the dimensions of the rug, but what a lot of people don't realize is that the layout of your furniture will say a lot about the size of rugs you should be looking at.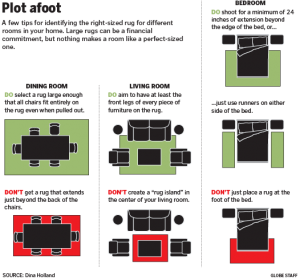 Each room in your house has a different layout, because each room has different furniture. Your dining room will most likely play host to the largest carpet, because the rug in your dining room should be large enough to hold the table and all of its surrounding chairs, even when they're pulled out. (A good rule of thumb is for the rug to extend two feet past the edge of your dining room table.)
In your living room, the rug should be able to run under the legs of the couches and chairs. (If not all four legs, then at the least the front two legs located closest to your coffee table.)
And in the bedroom, a rug shouldn't just rest simply at the foot of the bed. It should extend at least two feet from all edges of the bed (except for the head, of course). Runners on each side of the bed could also be used in place of a larger area rug.
Keep in mind that in all rooms, it's a good idea to leave a gap of two to three feet between the edge of your rug and the wall.
In the above diagram from Boston.com it's easy to see how the layouts of different rooms in your home can affect the size of rug you should buy.
Material: Natural or Synthetic?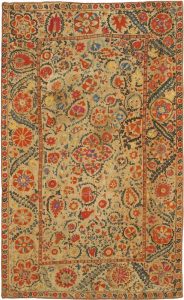 All rugs are made of one of two fiber types: natural or synthetic. In order to decide which type is right for you, you should consider your budget and the environment the rug will be placed in.
Natural fibers, which are typically more expensive and durable, include wool, silk, viscose, and hemp. Although rugs made with natural fibers are typically more luxurious, they can be more difficult to clean and maintain.
Rugs made from synthetic fibers can be easier to clean and are ideal for high-traffic areas, or homes with young children and pets. They are less expensive than rugs made from natural fibers. Rugs made with polypropylene, acrylic or nylon are made with synthetic fibers.
Note: All Keivan Woven Arts rugs are made from natural fibers. The rug pictured is made from silk.
Design and Color: The Options are Limitless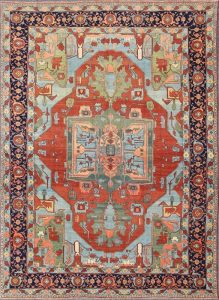 It's important to think about whether you want your rug to be a stand-out piece in your room, or to simply blend in and be a complement to the rest of the decor.
Rooms with subtle or no patterns on draperies, accent pillows, furniture, etc., might benefit from a rug with an impactful, colorful design. In contrast, rooms with bold patterns in other areas would do best with neutral-textured rugs.
If you choose to go with a bolder rug, consider Decorative—Turkish or Persian, Traditional, Mid-Century Modern, Moroccan and Tulu, American Hook and Navajo, Tribal, Chinese and Art Deco, or Caucasian and Collectible rugs.
For more subtle patterns, you might have luck looking at Transitional, European and Spanish, Khotan, and Kilim and Flat-Weave carpets.
Tip: To explore all of these designs and more, click here to browse by design on our website.
Pile–or Lack Thereof–and Height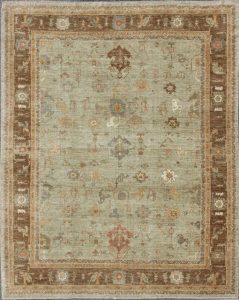 A good thing to pay attention to is whether you will be placing your rug on a bare floor, such as hardwood or tile, or on a carpeted floor.
If you're working with a bare floor, you might want to consider opting for a plusher rug with a higher pile, which would provide more cushioning against the hard surface.
For carpeted floors, rugs with little or no pile, such as flat-woven carpets, are ideal.
Shape: Rectangular or Circular?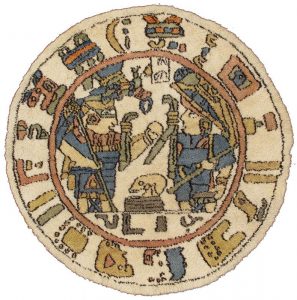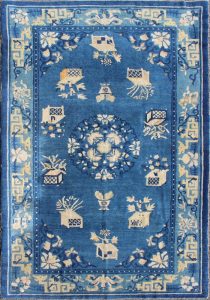 Also consider the shape of the room when deciding the shape of rug that will be placed there. Square and rectangular rugs are ideal for dining rooms, living rooms, and bedrooms, while circular- or oval-shaped rugs fit best in some bathrooms and foyers. And of course, runners are ideal for hallways, bedrooms (usually on either side of the bed), and bathrooms.

One Last Thing…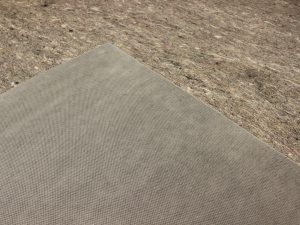 Don't forget the essential component of all area rugs: a rug pad. Not only will a rug pad prevent slips and provide extra padding, it may even extend the life of your precious carpet by cutting down on the friction between the bottom of your rug and your floor.
Just make sure you find one that perfectly matches the size of your rug, and you'll be good to go!
---
Click the images above to learn more about each rug, such as when it was produced, its size, and the materials used in its production.
---
Leave your questions about buying rugs in the comments below.
And click here to search by design for the perfect carpet on our website.

---